Tonnellerie Sansaud in Napa, California, specializes in premium French barrels. We can deliver barrels year round to your door from American Canyon, with a minimum order of one barrel.
Where does the wood  come from ?
How do they select the wood for  manufacturing?
With patience and knowledge, the Sansaud family recognizes the best wood for premium barrels.
How long has this knowledge been in the Sansaud family?
Tonnellerie Sansaud specializes in family crafted barrels. The knowledge has been passed from father to son over many generations.
How long does the wood dry?
The wood dries on the outside.  It is only a natural drying process.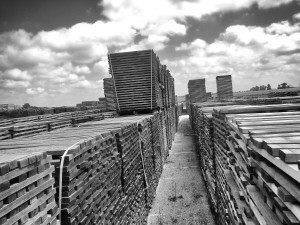 Where are the premium barrels manufactured?
The Sansaud premium barrels are manufactured  near Cognac in France. Located in Segonzac, called also  »La grande Champagne », this area makes the best Cognac.
They are French premium barrels created with French knowledge.
Which type of barrels can we order?
You can order Bordeaux or Bourgogne barrels for many different varietals.
You may also order : puncheron, hogshead…
Which kind of toasting can we order?
You can adapt the toasting for your wines.
For a special order, you may select your own toast level. We store many barrels in American Canyon with different toasts.
With which type of cepage can we use Sansaud barrels?
You can use Sansaud barrels for every kind of cepage.
For your order, we can adapt woods, drying, heating and toasting for your cepage.
Do you have a quality control?
For each barrel, we control, test, and perform a sanding three times for a fine, smooth touch. Every dowel and stave is handcrafted for a perfect fit.
Can we print our labels on the barrels?

Australia, New Zeland, Argentina, Chilie, Califonia, Washington, Italia, France, Tonnellerie Sansaud operate in each continent and collaborate with the best winery to obtain their expectations.
 Each vine is unique, ands each barrel also. That s why we offer to custom your barrels with your selection of woods, your toasting , branding and sanding.
Fascinated by the world of the wine, we remain at your disposal to answer your questions, contact us at www.sansaud-usa.com or www.sansaud-france.fr